Diet Building facilities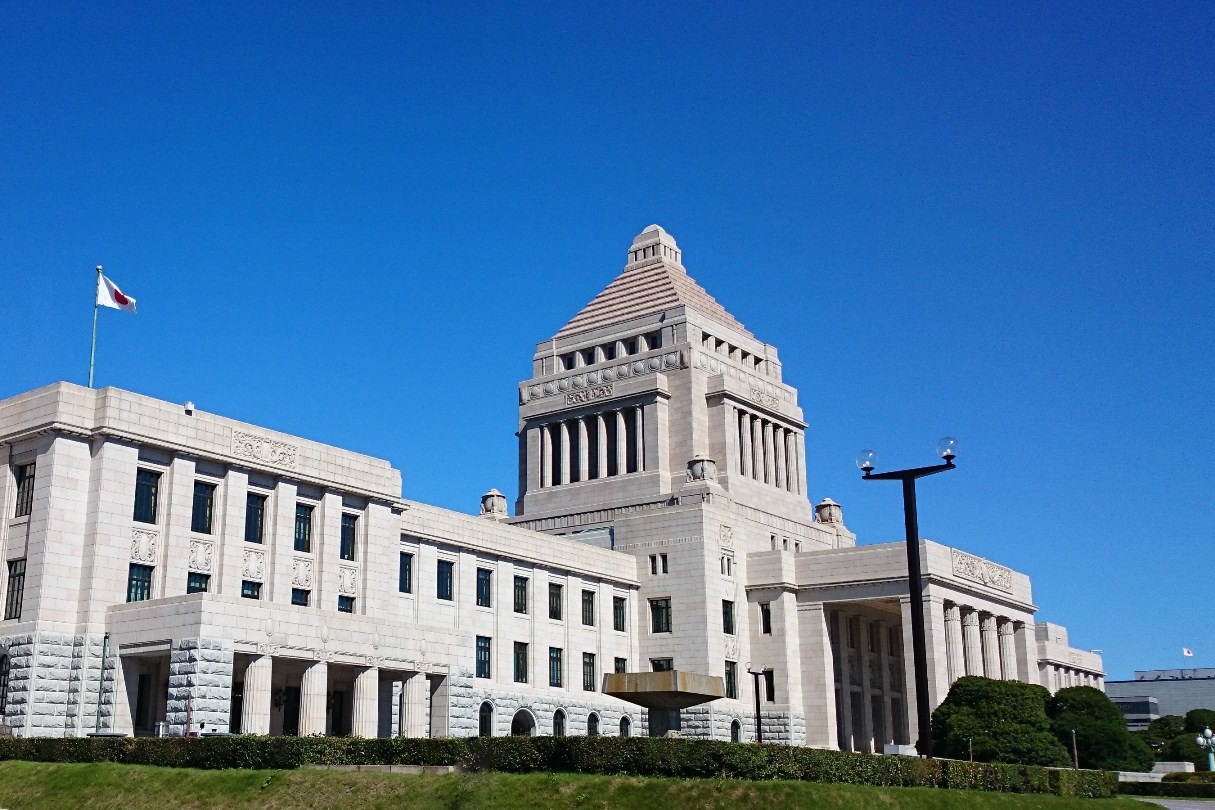 Statistics on the Diet Building
Site area
103,007 square meters
Building area
13,356 square meters (total floor area: 53,464 square meters)
Length (north-south)
206.36 meters
Depth (east-west)
88.63 meters
Height to roof
20.91 meters (central tower: 65.45 meters)
Chamber area
House of Representatives: 743.81 square meters
House of Councillors: 743.81 square meters
Diet Building structure
Three floors above ground, with a four-storey central portion and a nine-storey tower; one floor below ground; steel-reinforced concrete construction
Cost of construction
¥25.7 million (at time of construction)
Period of construction
17 years (January 1920 to November 1936)
Date of commencement of use
70th session of the Imperial Diet (December 1936)
Total number of workers
2,540,000
House of Representatives
Left-hand side when facing the building
House of Councillors
Right-hand side when facing the building
---
Click on a photo to enlarge it.
Central Entrance
The central entrance usually remains closed. It is opened only for His Majesty the Emperor on the day of the Opening Ceremony, for Diet Members on the first convocation day after an election, and for State guests.
Central Hall
Beyond the central entrance lies the central hall, which is located directly under the central tower. The hall has a floor area of 267.65 square meters, and the cathedral-like ceiling rises four storeys that admit daylight from above, making the hall 32.62 meters high. The windows and ceiling are decorated with stained glass, and the hall contains bronze statues of ITO Hirobumi (1841–1909), ITAGAKI Taisuke (1837–1919), and OKUMA Shigenobu (1838–1922), each of whom rendered distinguished service in the cause of parliamentary government in Japan.
Emperor's Room
Located at the top of the central staircase which leads up from the central hall, this room is used by His Majesty the Emperor when he visits the Diet. On the day of the Opening Ceremony, the presiding officer and deputy presiding officer of each House come here to meet His Majesty. The room is made entirely of Japanese cypress finished with fine lacquer and is said to be the quintessence of the architecture and craftsmanship of that era.
Chamber of the House of Representatives
In this chamber, the House of Representatives holds its plenary sittings. The Speaker's chair is in the center of the dais, and the seat next to it is reserved for the Secretary General. The seats in the front row on the elevated platform on either side of the Speaker's chair are for the Cabinet Ministers. The Prime Minister's seat is in the front row on the left-hand side near the Speaker.
The Members' seats, which form a semi-circle around the rostrum in front of the Speaker's chair, are traditionally occupied, from left to right, in blocks proportionate to the strength of the political groups represented.
At each Member's seat is the Member's nameplate, a black rectangular block with the Member's name inscribed on it.
Committee Rooms
Committee meetings are held in these rooms. There are three types of rooms with different seating arrangements. Five rooms are in the Diet Main Building, and eight in the Committee Room Annex, which was built in March 1969 in the southern part of the Diet compound to increase the number of committee rooms.
Committee Room No. 3 (Main Building)
Committee Room No. 11 (Committee Room Annex)
Committee Room No. 17 (Committee Room Annex)