Tours of the National Diet in English
(House of Representatives)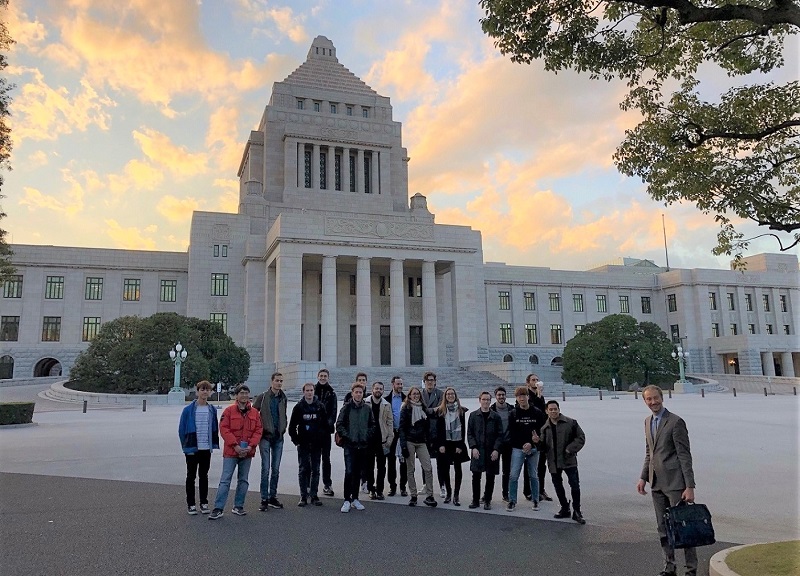 From March, 2016, the House of Representatives provides tours of the National Diet in English for non-Japanese visitors. Please consider this tour as one of your options during your stay in Japan.
Day and time: once in the afternoon

Mondays (2:00p.m.) ; Tuesdays, Wednesdays, Thursdays, and Fridays (3:00p.m.)
Notice:
Number of participants in one day: 30(Up to nine people per application. We take applications only from individuals, not tour operators or travel agents.)
How to apply: Reservations only by e–mail
1. During two months up to one day before, send an e–mail by clicking "Reservation" below, which will open an e–mail. Fill out all the information indicated in that mail. (Please note that if not all the necessary information is provided or if any extra information, such as a question or an attachment, is included, your application will not be accepted.) You will later be notified by e–mail whether you can have a tour on the day you requested, plus your registration number and the meeting time and date.
When the day you apply to our Diet Tour incidentally corresponds with on Saturdays, Sundays, national holidays in Japan or the period between December 29 and January 3, our reply on your request and the issue of a Registration Number of your Diet Tour would be obliged to be followed on a next business day.

Reservation

2. After receiving a reply from the House, please check your registration number indicated in the mail, download a registration form (PDF: 49KB) by clicking the link in the mail, print it out, fill it out and bring it with you on the day of your tour.

     


Attention:
Please bring the registration form (described in note 2 above) with you.
Bring your passport(s) with you to confirm your identity. Each person must bring his/her passport to confirm identity.
There will be a security check with a gate scanner upon entering the Diet building.
Please limit your personal effects to a bare minimum and bring only a small handbag with you. There are no storage facilities for large items.
At the security check point, be ready to open your bag for inspection by a House guard.
During the tour, you can take photos: in the House Chamber, at the Emperor's Room, in the Central Hall and while walking outside the Diet building.
Follow any instruction given by your guide(s).
Please note that your tour might be cancelled at short notice due to the circumstances of the National Diet. In that case, we will notify you by sending a message to the email account given in your application.
Tours of the Diet building in Japanese are operated every day. If you are accompanied by someone who speaks Japanese, you can apply for such a tour.

     Tours of Diet Building (Japanese only)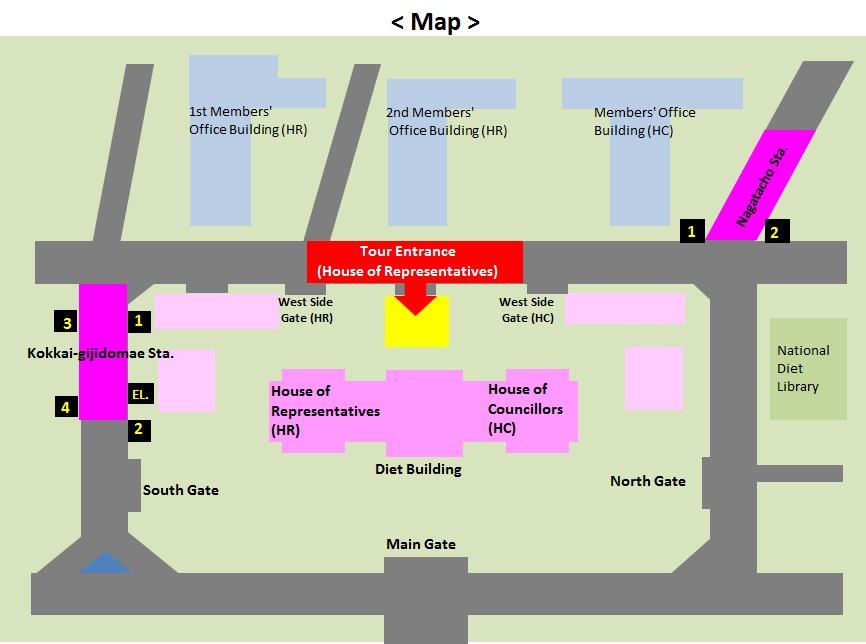 Tokyo Metro
Marunouchi and Chiyoda Lines:
Kokkai-gijidomae Sta. (exit 1) 3 min. walk
Yurakucho, Hanzomon and Namboku Lines:
Nagatacho Sta. (exit 1) 3 min. walk